Regular price
$375.00 USD
Regular price
Sale price
$375.00 USD
Unit price
per
Sale
Sold out
Share
The Grand Chocolate & Floral Extravaganza is a magnificent and indulgent gift box that exudes opulence and charm. This oversized box is a treasure trove of delights, designed to captivate the senses and make a lasting impression.
Abundance of Chocolates: The centerpiece of this box is the sheer abundance of chocolates. Nestled within are multiple boxes, each containing a delectable assortment of chocolates. From creamy truffles to rich dark chocolates, there's a delightful surprise waiting in every box, promising a journey of sweet indulgence.
Exquisite Flowers: Adjacent to the chocolates, a lavish bouquet of fresh and vibrant flowers adds a touch of natural beauty and fragrance. The flowers are expertly arranged to create a stunning visual contrast against the chocolates, making the gift even more captivating.
Tea Box and Cup: For those who appreciate the finer flavors in life, this gift box includes a tea box filled with a curated selection of premium teas. Accompanying it is an elegant tea cup, ensuring that the recipient can savor moments of tranquility and warmth while enjoying their chocolates and admiring the flowers.
Oversized Presentation: The gift box itself is oversized and meticulously designed. It's not just a container; it's a statement piece. With luxurious embellishments, elegant finishes, and attention to detail, the box is a work of art, setting the stage for the grand reveal inside.
"The Grand Chocolate & Floral Extravaganza" is more than just a gift; it's an experience. Perfect for celebrating special occasions, expressing heartfelt sentiments, or pampering someone deserving of a truly remarkable gift. It's a gesture of abundance, beauty, and indulgence, making it an unforgettable present for anyone fortunate enough to receive it.
View full details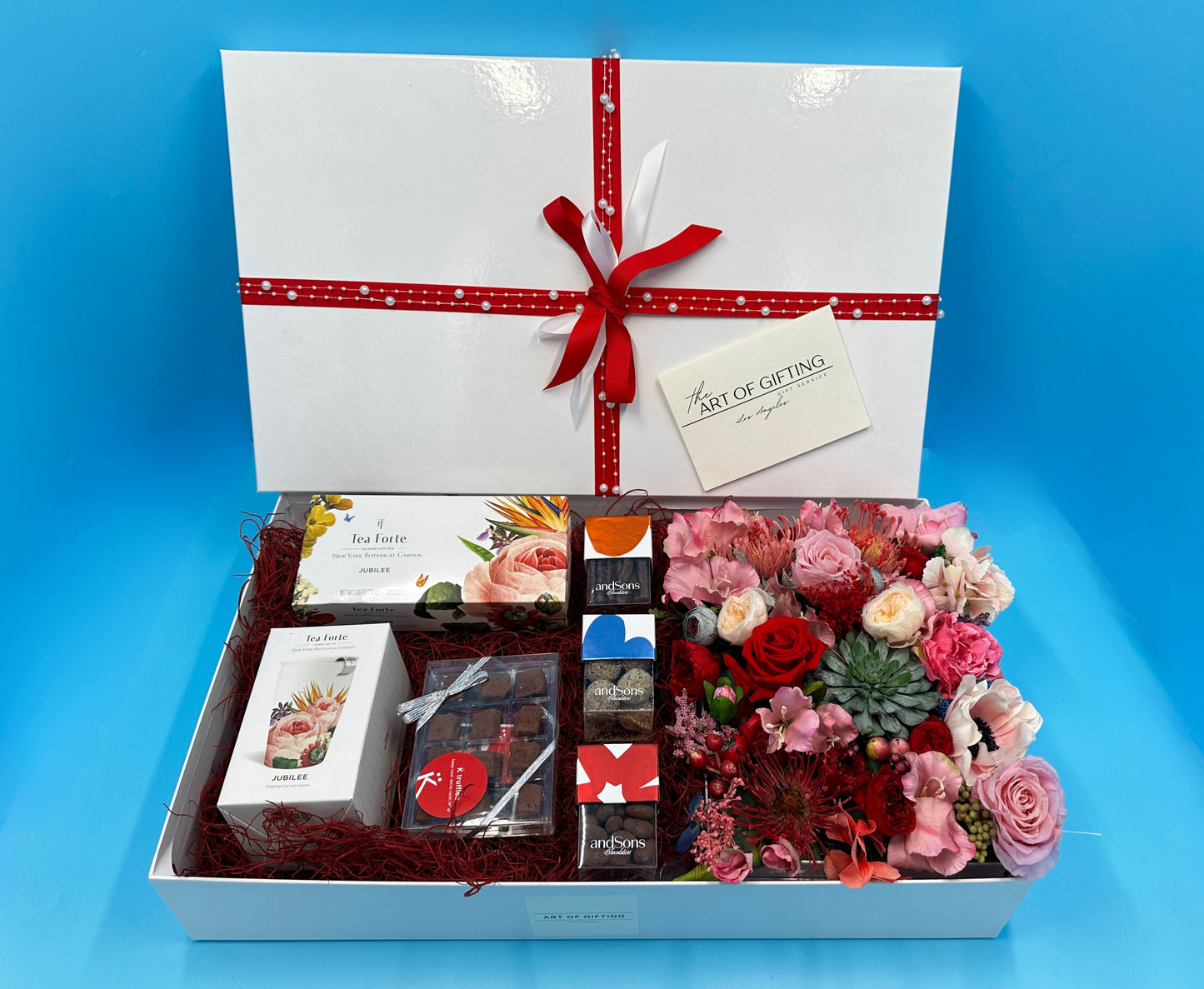 Add to your gift
Regular price

$210.00 USD

Regular price

Sale price

$210.00 USD

Unit price

per

Regular price

$150.00 USD

Regular price

Sale price

$150.00 USD

Unit price

per

Regular price

$160.00 USD

Regular price

Sale price

$160.00 USD

Unit price

per